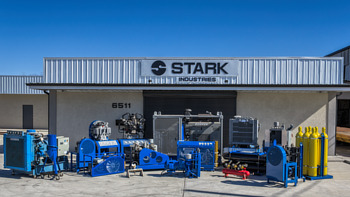 Stark Industries manufactures a complete line of Diesel & Electric Compressor packages.
We take pride in designing direct drive machines. Whether diesel, electric, or self-contained units, our goal is always minimum space & weight, combined with maximum efficiency.
Stark Industries success in supplying high pressure compressors for seismic oil exploration has created a large demand for our rental units. As a result, Stark Industries maintains a large inventory of seismic rental compressors. Stark designs, maintains, and re-manufactures, all compressors in our own 40,000 square foot facility on 1 ¼ acres in the heart of Houston. See Compressors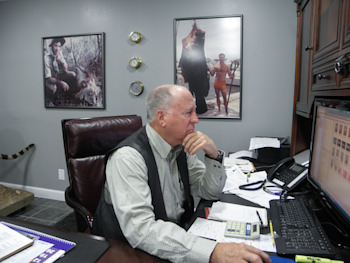 Stark Industries was founded in 1962 as a machine shop in Houston, Texas by Jess Stark. As the business grew, Jess steered Stark Industries into manufacturing specialized high pressure compressor packages in 1969.
Today, Stark Industries resides on 1 ¼ acres in Houston prime. Our shop technicians and operators design and craft everything on site.
Our philosophy is to keep it simple. Our goal is to build a dependable, bullet-proof machine, that is easy to operate and maintain. To date, Stark industries, builds the lightest, most compact, 100 CFM machine, on the market. We took that a step further and built the Ultra-lite. See Compressors. We also offer many accessories. Click here.